SkyDemon - Choosing your device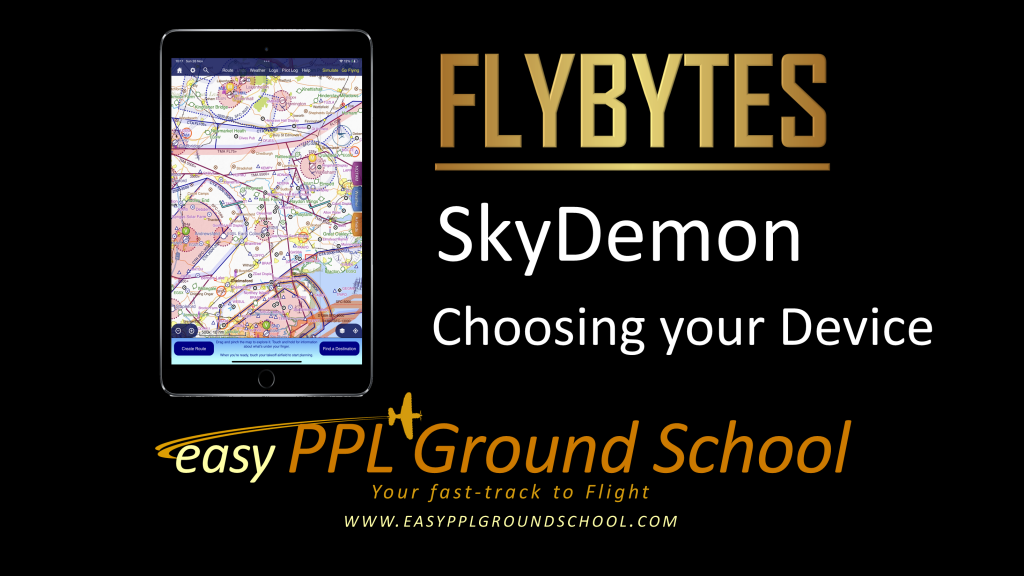 Here at Easy PPL Groundschool, we're great fans of SkyDemon, and we often get asked about what the best device is to use for that simply fantastic pilot moving map application. So here are a few considerations we think are key.
Also keep your eyes peeled for our brand new course coming soon from Easy PPL Ground School - "SkyDemon - The Essential Course"
Contents
What is SkyDemon?
Benefits of using SkyDemon
Introduction to Devices
Device Size
Device Capacity
GNSS (GPS) Capability
Bluetooth Capability
Mobile Data
Temperature Sensitivity

What is SkyDemon?
SkyDemon is a moving map device for use by VFR pilots in both flight planning and navigational flight. It relies upon GNSS (Global Navigation Satellite System), otherwise known as GPS, and is an application that runs on mobile devices, the type of which are many and varied.
Various third-party add-on devices are available to provide GNSS (GPS) signals (where the mobile device does not have the capability), and also for traffic awareness. SkyDemon can give the pilot access to aeronautical information (AIP), including VFR charts, for a vast array of countries world-wide.
Benefits of using SkyDemon
The use of SkyDemon for both flight planning and navigational flight cannot be recommended highly enough. Use of SkyDemon helps a pilot to;
gain access to the correct up-to-date aeronautical information (AIP) and weather information
achieve more accurate flight planning in a shorter time-scale
be less prone to re-flight planning errors such as NOTAMS, Airspace and Mass and Balance
increase their situational awareness
not to infringe notified airspace
enhance the safety of the flight with the included verbal and graphical warnings provided by the system
Introduction to Devices
SkyDemon runs on a variety of devices from laptops (both Windows and Mac), as well as mobile devices (tablets and phones) running Android or iOS operating systems. The choice of device is therefore pretty much up to the user.
The standard licence for SkyDemon also allows an account to be used simultaneously on each type of device (e.g. the PC, tablet and phone).
Device Size
When choosing your device, remember that you will not only be using the device for flight planning at the comfort of a desk, but also using the device in-flight. As such, the size of the device display needs careful consideration;
It must not be too small so that excessive concentration has to be used in flight
It must not be so large that mounting the device causes the pilot a problem in obscuring visibility out of the cockpit
Device Capacity
SkyDemon can use a lot of storage space depending upon how the pilot uses the system. Charts for the countries to be flown through or within will need to be downloaded since these will need to be used off-line. The pilot may also wish to download AIP information for the countries concerned to have the information on the device already in case on-line access in foreign lands is not possible due to mobile network coverage or the lack of roaming on the mobile contract associated with the device.
For these reasons, a device with a good amount of storage space should be chosen to cater for SkyDemon use as well as other apps installed, and user files such as photos etc.
GNSS (GPS) Capability
Be careful here
SkyDemon will need to be able to receive GNSS (GPS) signals, and not all devices are equal! In particular, you should note that;
Apple devices that only have Wi-Fi capability (no sim card) will not have the ability to receive GNSS (GPS) signals. For these types of devices you will need to purchase a separate GNSS (GPS) receiver (there are many available) and network that receiver to your device to enable SkyDemon to work correctly
Apple devices that have sim card capability will work correctly without the need for a separate GNSS (GPS) receiver
Android devices (generally speaking) tend to have GNSS (GPS) receiver capability irrespective of whether Wi-Fi only or sim-capable, but this may change with increasing advances in chip technology, so always check the specification carefully!
Bluetooth Capability
SkyDemon can provide audible warnings for certain situations. Within a cockpit environment these will be difficult to hear via the native loudspeaker of the device concerned. Best practice would be to ensure your chosen device has BlueTooth capability (most if not all do these days in any event). More importantly, the pilot's headset should also be BlueTooth capable to be able to receive the audible output from SkyDemon through the device and to the pilot directly through the headset.
Various pilot headsets have a Bluetooth option, or, there are also some independent stand-alone Bluetooth receivers available that sit between the aircraft and pilot headset to inject the audio into the pilots headsets via the standard headset aircraft audio leads.
Mobile Data
SkyDemon by default will download AIP data as required on the fly where the pilot has chosen not to download that information prior to flight. It uses the standard network capability of the device to achieve this. If the device network connectivity is via a sim card, then downloading occurs via the mobile network.
It should be remembered that;
In flight, mobile network connectivity may be intermittent or non-existent
Data roaming will be required if the device is being used in a country different to that in which the mobile (sim) contract is active
Temperature Sensitivity
The reliability of modern devices is excellent, but consideration must be given to the relative alien environments that can happen within a cockpit. Some devices (notably Apple) can suffer from heat exhaustion whereby the device shuts down if the internal temperature reaches a critical value. This can be inconvenient (at best!) for a pilot using the device for in-flight navigation. Careful thought should be taken on placement of all devices in the cockpit – for example – not to place it on the coaming in view of direct sunlight through the Perspex (which is a sure way of ensuring a device gets really hot, really quickly).
Similarly, devices will often fail to turn on if they sense a temperature that is too cold (and even if they do turn on the battery life in cold temperatures will be severely depleted). In this case, careful though is required to ensure a device is not left in an aircraft overnight on a cold clear night!